We stock a selection of boat anchors in either stainless steel or galvanized and also folding anchors and fishermans anchors. Polished stainless steel deck cleats, mooring bollards in a selection of sizes also carried. We also stock Pwc and Jetski anchors, grapnel anchor and sand anchors and drag anchors for the boat fishing enthusiast. A range of anchor products in either stainless steel and aluminium. Chain connectors in a range of sizes. Also we carry a choice of raked mooring bollards. Boat fishing floating drag anchors in stock. Boat fender snap hooks in polished chrome on stainless steel finish. Choice of boat fenders and mooring bollards also available in two sizes. We stock cushioned boat hull hugger fenders available in white and for the canal and narrowboat sailor we stock a choice of mooring pins and boat mooring spikes. Wide choice of boat dock and anchor lines. Large selection of boat moorings products. We now stock the boat anchor retrieval system for easy recovery of boat anchors.
Boat Anchor-Mooring Bollards-Boat Fenders-Deck Cleats-Mooring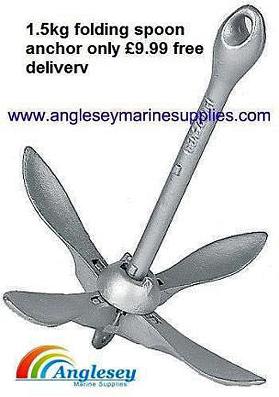 1.5kg Folding Spoon Boat Anchor
1.5kg folding spoon boat anchor, galvanized, Ideal for lightweight tenders and small dinghies. Boat mooring.
Was 10.99 now only £9.99
Quick Release Boat Anchor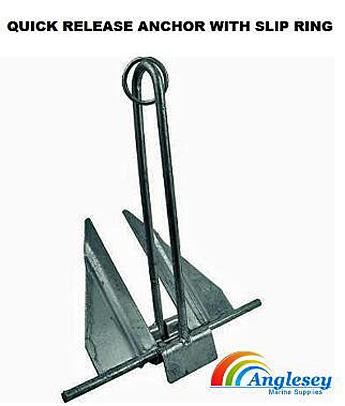 Quick Release Boat Anchor With Slip Ring
Quick release dutton lang style danforth anchor with quick release slip ring, enables easy retrieval of the boat anchor. Comes in two different sizes. 10E spade anchor for boats up to 22 foot and the 13E spade anchor for boats up to 26 foot.
Massive reductions from only £13.99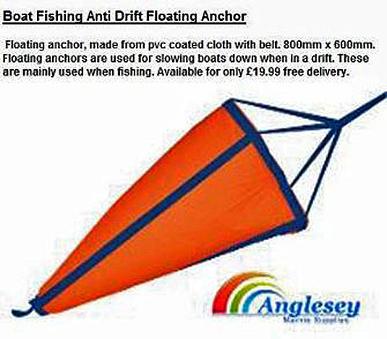 Floating Boat Drag Anchor
Floating boat drag anchor, made from pvc coated cloth with belt. 800mm x 600mm.

Floating anchors are used for slowing boats down when in a drift. These drag anchors are mainly used when fishing.
Was £25.99 now only £19.99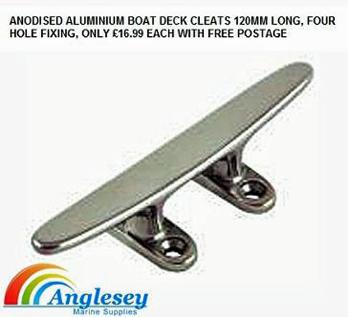 Aluminium Boat Deck Cleats
Anodised aluminium boat deck cleats 120mm long, to tie of moorings and boat rigging.
Was £16.99 now only £13.99
Boat Fender Hooks-Mooring Eyes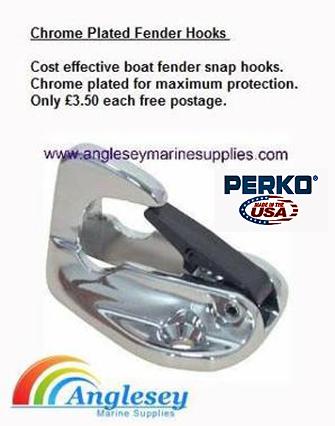 Chrome Plated Boat Fender Hooks Mooring Eyes

Cost effective boat fender eyes snap hooks. Chrome plated brass for maximum protection.
Was £3.50 each
now only £2.50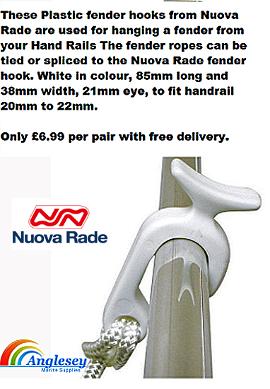 Plastic Fender Hooks
These Plastic fender hooks from Nuova Rade are used for hanging a fender from your Hand Rails The fender ropes can be tied or spliced to the Nuova Rade fender hook. White in colour, 85mm long and 38mm width, 21mm eye, to fit handrail 20mm to 22mm.
Was £6.99 per pair now only £3.99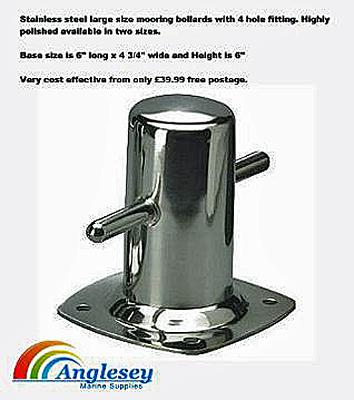 Stainless Steel Mooring Bollard
Stainless steel large mooring bollard with 4 hole fitting. Highly polished available in two sizes.

This is the large mooring bollard manufactured from 316 stainless steel.

Base size is 6" long x 4 3/4" wide and Height is 6". Boat mooring.
Was £45.99 now only £39.99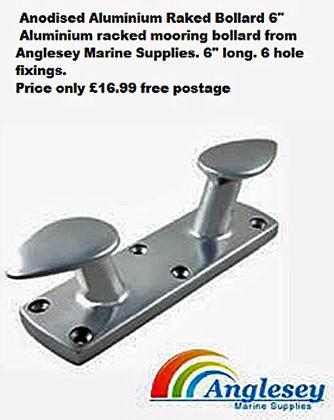 Aluminium Raked Mooring Bollard
Aluminium racked mooring bollard from Anglesey Marine Supplies. 6" long. 6 hole fixings. Boat mooring.
Price only £16.99 free postage.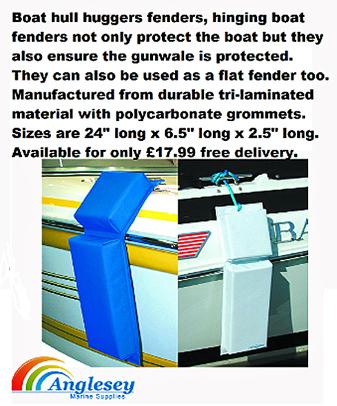 Boat Fenders Hull Huggers
Boat fenders hull huggers, hinging boat fenders not only protect the boat but they also ensure the gunwale is protected. They can also be used as a flat fender too. Manufactured from durable tri-laminated material with polycarbonate grommets. Boat fenders.
Sizes are 24" long x 6.5" long x 2.5" long.
Was £17.99 now only £15.99
Canal Narrow Boat Mooring Pins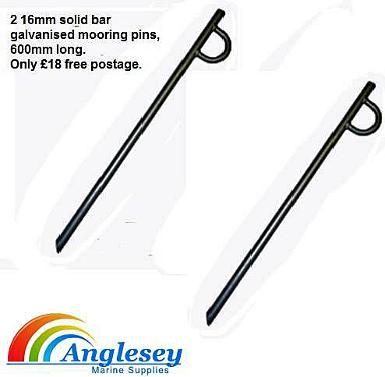 2 number 16mm canal narrow boat mooring pins, fully galvanized, 600mm long.
Price is for two canal and narrow boat mooring pins, mooring stakes. Boat mooring.

Was £19.99 now only £17.99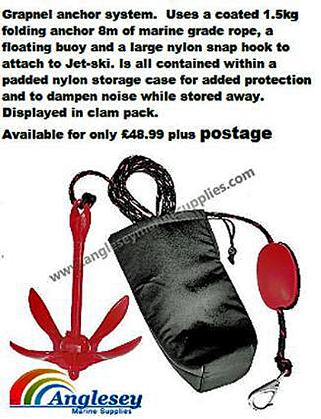 Jet ski Grapnel Anchor system. Uses a coated 1.5kg folding anchor 8m of marine grade rope, a floating buoy and a large nylon snap hook to attach to Jet-ski. Is all contained within a padded nylon storage case for added protection and to dampen noise while stored away. Displayed in clam pack, A Quality Jet ski anchor.
Was £48.99 now only £39.99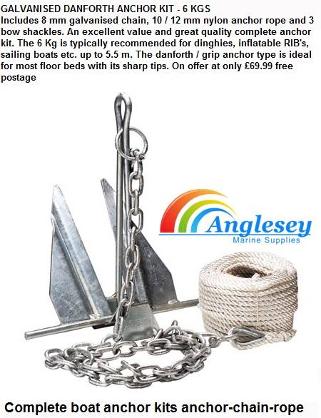 Boat anchor kit includes 8 mm galvanized chain, 10 / 12 mm nylon anchor rope and 3 bow shackles. An excellent value and great quality complete anchors kit. The 6 Kg is typically recommended for dinghies, inflatable RIB's, sailing boats etc. up to 5.5 m. The danforth / grip anchor type is ideal for most floor beds with its sharp tips. Boat anchor.
Was £69.99 now only £65.99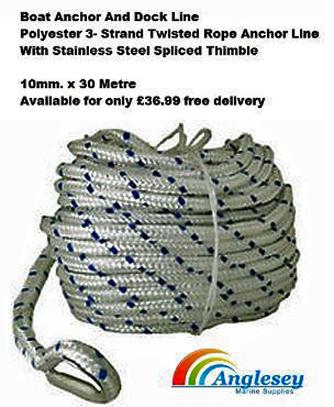 Boat Anchor Rope And Mooring Rope
Boat anchor rope and mooring rope, Polyester 3- Strand Twisted Rope Anchor rope

With Stainless Steel Spliced Thimble
10mm. x 30 Metre. Boat mooring.
Was £36.99 now only £29.99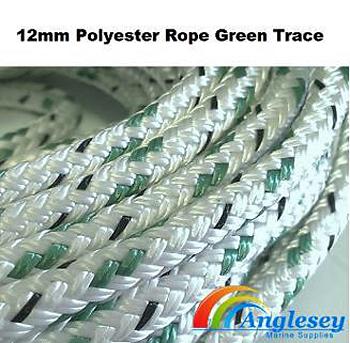 nylon anchor rope-boat anchor rope
8 Strand Nylon Anchor Rope
8 strand nylon anchor rope. The nylon anchor rope is soft and flexible and easy to splice. The anchor rope as good absorption properties and very hard wearing. The 8 strand nylon anchor rope is available in sizes 12mm and 14mm. A quality nylon anchor rope.
From £1.90 per metre
Boat Anchor Alderney Ring And Buoy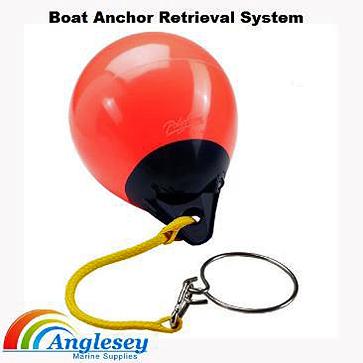 Alderney Ring And Buoy
Boat anchor retrieval system alderney ring and buoy, simply place the alderney ring over the boat anchor rope, lower the ball overboard and run a slow course 30-45 degrees away from the anchor. This will move the ball down to the boat anchor pulling it free.

Was £49.99 now only £45.99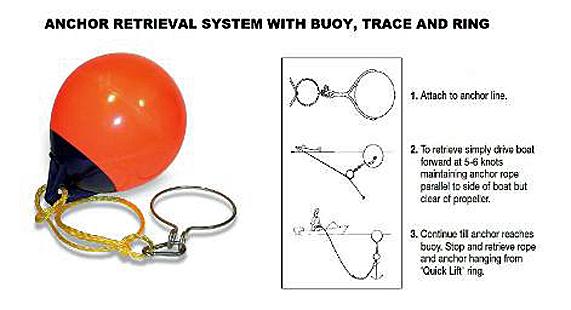 Canal Boat Fender-Narrow Boat Fender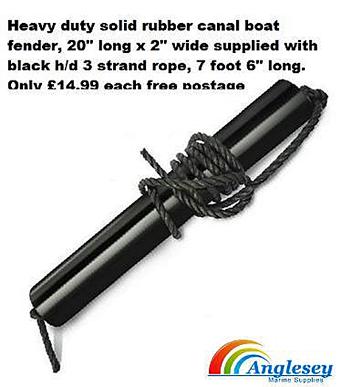 Narrow boat Fender
Heavy duty Narrow boat fender for more traditional narrow boats, made from solid rubber 20" long x 2" wide and can be positioned either lengthwise or perpendicular to the side of the vessel. supplies with black h/d 3 strand rope, 7 foot 6" long.
Was £14.99 now only £9.99 each
Boat mooring, anchors, deck cleats, stainless, boat, mooring, drag anchor
We stock all the following for your boating needs, floating anchor, boat fender, snap hooks, mooring eyes, mooring bollards, fender hooks, hull huggers, fenders, mooring pins, spikes, grapnel anchor, anchor lines
all at trade marine prices. Canal boat fenders and narrow boat fenders now in stock