Check us out for all your boat chain, galvanized chain. All marine rigging supplied wide range of cable, chain, ropes, rigging, mooring, wire in stock. Choice of different sail ties available. Stockist of cable for boat steering, marine rigging. Stainless steel chain swivel in stock to accept different sizes of galvanized chain. Pvc wire boat steering cable sold by the metre along with stainless 316 grade steering cable wire, polypropylene rope also sleeves and wire crimpers to manufacture your own marine rigging.
Trailer marine supplies for all your boat ropes in a range of materials, polypropylene, nylon, hemp etc. Marine rigging lines, chains and cables in stock. Cable cutting and swaging crimping tools and supplies sold along with galvanized chain, chain swivels manufactured from stainless steel and joints for all boat mooring. We stock floating rope for the waterski enthusiasts and to ensure your boat is secure we stock our polypropylene mooring rope. Marine rigging ropes are in stock along with a selection of 316 stainless steel wire and boat steering cable wire. For the Yachting and sailing specialists we stock a selection of sailing tie
Polypropylene Rope-Water Ski Rope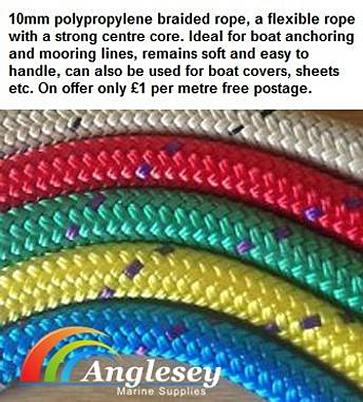 10mm braided polypropylene rope water ski rope, a flexible waterski rope rope with a strong centre. Ideal for boat anchoring and mooring anchor lines. Remains soft and easy to handle. Can also be used for watersport inflatable toys tow ropes, mooring, boat covers etc.
Was £1.10 per metre now only £0.80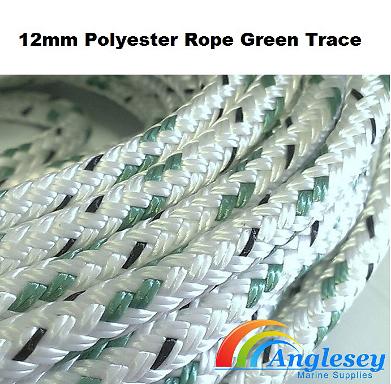 12mm Polyester Rope Braid On Braid Green Trace
Braid on braid 12mm polyester rope green trace.
Polyester rope braid on braid marine rope rigging polyester rope 12mm 32 plait polyester.

Non Kink, high tenacity 24 strand outer cover with 12 strand polyester Rope braid inner core, easy splice.
Suitable for all marine rope rigging applications.
Was £1.20 per metre now only £0.99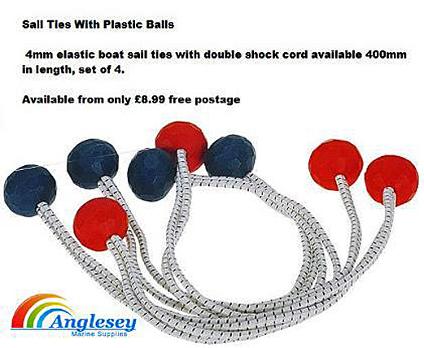 Boat Sail Ties Yachting Sailing
Sail Ties With Plastic Balls Yachting Sailing
4mm elastic boat sail ties with double shock cord available 400mm in length, set of 4.
Was £8.99 now only £5.99
Nylon Shockcord Elastic Rope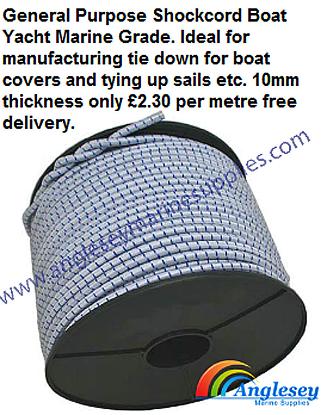 Nylon Shockcord
General Purpose Shockcord elastic rope ,Boat Yacht Marine Grade. Ideal for manufacturing tie down for boat covers and tying up sails etc. 10mm thickness.
Was £2.30 per metre now only £1.50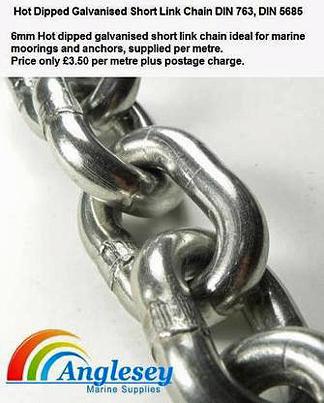 Boat Mooring Galvanized Anchor Chain
Hot Dipped Boat Mooring Galvanized Anchor Chain DIN 763, DIN 5685
6mm Hot dipped galvanized chain short link Anchor Chain ideal for marine boat moorings and anchors, supplied per metre.
Was £3.50 per metre now only £2.50
Stainless Steel Chain Swivels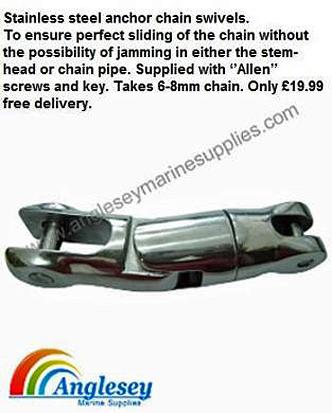 Stainless steel chain swivels.
To ensure perfect sliding of the chain without the possibility of jamming in either the stem-head or chain pipe. The stainless steel chain swivels are supplied with ''Allen'' screws and key.
Takes 6-8mm chain. Was £19.99 now only £12.99
Stainless Steel Chain Quicklinks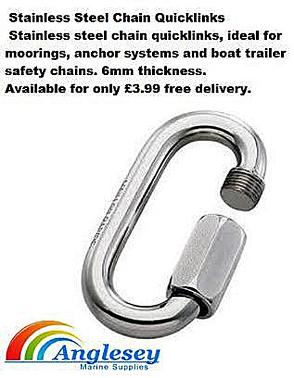 Chain Quicklinks
Stainless steel chain quicklinks, ideal for moorings, anchor systems and boat trailer safety chains. 6mm thickness.
Was £3.99 now only £2.99
Wire Crimpers Swagging Tool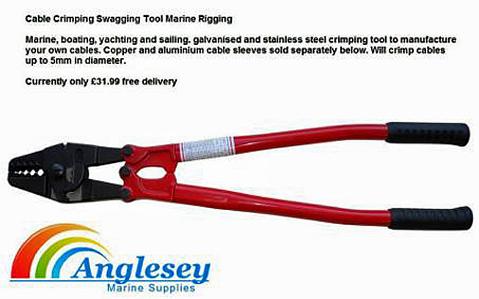 The wire crimpers swagging tool for marine, boating, yachting and sailing rigging. Galvanised and stainless steel wire crimping tool to manufacture your own cables. Copper and aluminium cable sleeves sold separately below. Will crimp cables up to 5mm in diameter.
Was £35.99 now only £31.99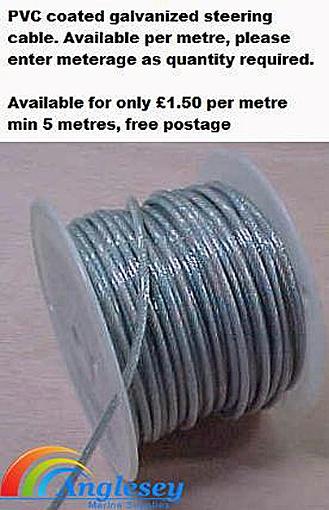 PVC Coated Boat Steering Cable Wire
PVC Coated boat steering cable wire, used on boat steering cable pulley systems.
Available per metre, please enter meterage as quantity required.
Was £2.50 per metre now only £1.50
Stainless Steel Wire Rope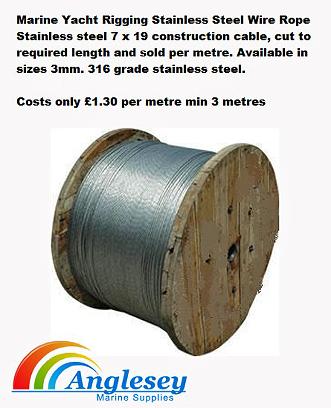 316
Stainless Steel Wire Rope
Marine yacht rigging stainless steel wire rope, Stainless steel wire 7 x 19 construction cable, cut to required length and sold per metre. Available in sizes 3mm. 316 grade stainless steel.

Was £1.50 now only £1.30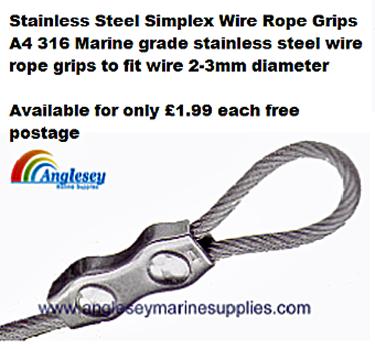 Stainless Steel Simplex Wire Rope Grips
A4 316 Marine grade stainless steel simplex wire rope grips to fit wire 2-3mm diameter
Was £2.99 each now only £1.99
Trade Marine Supplies for all your boat chain, mooring rope, polypropylene rope, floating rope, Marine rigging, wire cable crimpers, swaging tool, chain swivel, sail ties, galvanized chain, boat steering cable wire.