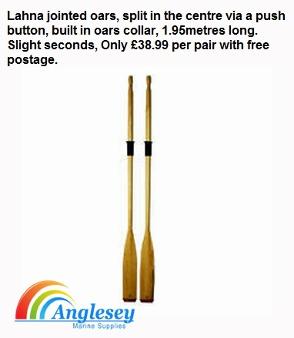 Lahna Jointed Varnished Boat Oars
Lahna jointed varnished boat oars, split in the centre via a push button, built in oars collar, 1.95 metres long. Rowing, Canoe, Kayak
On offer at only £38.99 per pair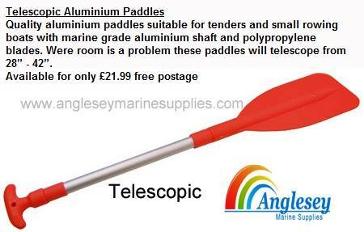 Telescopic Aluminium Paddles
Quality telescopic aluminium paddles suitable for tenders and small rowing boats with marine grade aluminium shaft and polypropylene blades. Were room is a problem these paddles will telescope from 28" - 42".

Was £21.99 now only £18.99
Boat Oar Collars 45mm
45mm oar collars, Boat rowing protective oar collars available in 45mm.
Was £5.99 each now only £4.99
Boat Oar Collars 35mm
Boat oar collars 35mm, Boat rowing oar protective collars available in 35mm.
Was £4.99 each now only £3.99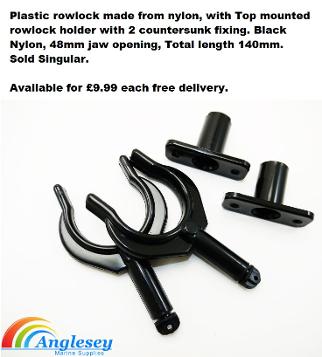 Plastic Rowlocks
Plastic rowlocks made from nylon, with top mounted rowlock holder with 2 countersunk fixing. Black Nylon, 48mm jaw opening, Total length 140mm.
Sold Singular.
Was £9.99 now only £8.99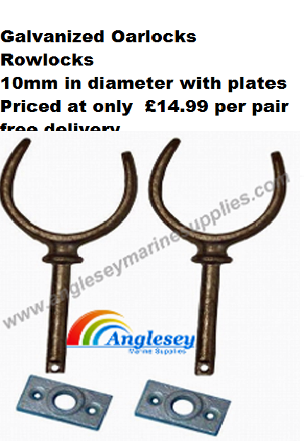 Galvanized Oarlocks Rowlocks
10mm in diameter galvanized oarlocks rowlocks with plates
Was £14.99 now only £12.99