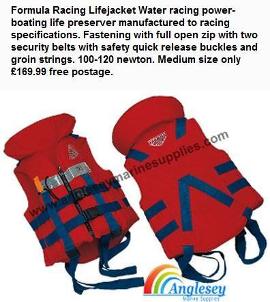 Formula racing lifejackets, buoyancy aids and lifejackets at affordable prices.
Free delivery on all items.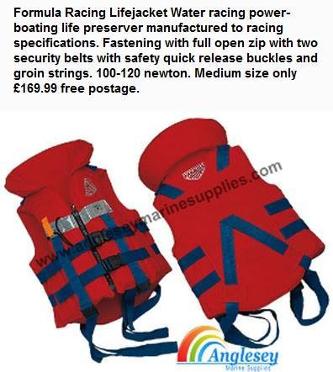 Formula boat racing lifejacket
Formula racing lifejacket water racing power-boating life jacket preserver manufactured to racing specifications.Powerboating, Zapcat and Jetski Pwc racing. Fastening with full open zip with two security belts with safety quick release buckles and groin strings. 100-120 newton.

All sizes from £169.99
Buoyancy Aids
Boating buoyancy aids, perfect for watersports, jetskis, rowing, sailing.
Size medium.
Was £19.99 now only £14.99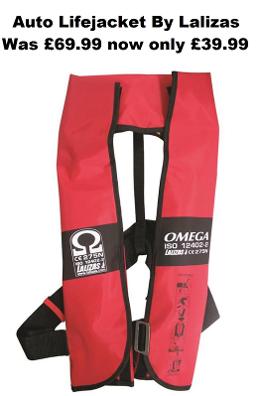 Auto Lifejacket-Self Inflating Life Jacket
Auto lifejacket, self inflating life jacket, On entering water this Lifejacket will inflate automatically. Before Use ensure 33gr CO2 Gas Cylinder is fitted to 150N adult Lifejacket or one 60gr CO2 gas cylinder is fitted to 275N adult Lifejackets or one 22gr CO2 Gas Cylinder to children's lifejacket. If the automatic inflation for any reason does not operate, use the back-up manual inflator by pulling the manual lever. One canister included with sale. Medium size only.

Was £69.99 now only £39.99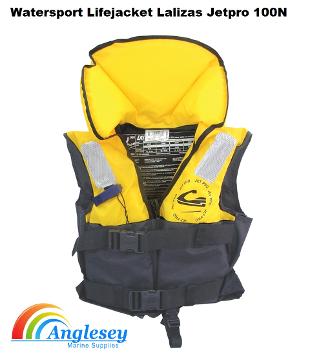 Watersport Lifejacket Lalizas Jetpro 100N
Watersport lifejacket lalizas jetpro 100N. Quality Lalizas lifejacket 100 newton buoyancy, fitted with quick release buckles and extra protective padding. Ideal for waterski and jetski, Size medium.
Was £27.99 now only £22.99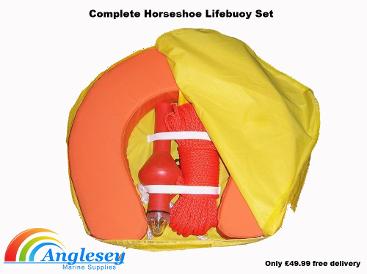 Complete Horseshoe Lifebuoy Set
Complete horseshoe lifebuoy set, This is in a case and comes with buoyant rope and solas inversion light The light has a switch that turns on when it floats.
The complete horseshoe life buoy set is a soft plastic / foam unit approx 60 cm in diameter, the case has a velcro seal and eyelets to allow stowing on a rail, these normal retail out at £59.99 however the outer protective cover is slightly dust marked.

Only a few remaining at only £49.99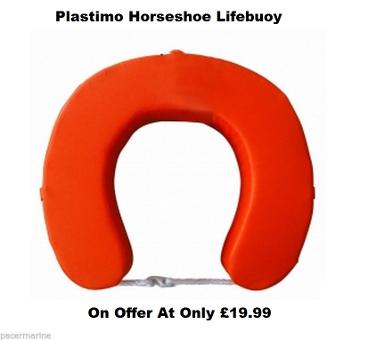 Plastimo Horsehoe Lifebuoy
Plastimo horseshoe lifebuoy, tradition type life preserver,
A must to have on all boats, fishing boats etc.
Reduced from £30.99 to now only £19.99