Dinghy launching trolleys, dinghy launching trolley wheels and boat launching cart dollys available. Dinghy launch trolleys at low prices. Boat and dinghy launching carts in stock. Lift up boat launching wheels also supplied.
Full range of boat launching products available, we have our ever popular foldable boat dinghy launching trolleys that can be carried in most car boots yet assembled in a few minutes, we have a larger version launch trolley to carry boats up to 16 foot in length. We also have our boat launching dollys that are very compact and can be easily carried in the boat when in use. Dinghy launching trolley wheels in stock.
Boat Launching Dolly-Boat Launching Trolley
A competitive priced means of launching dinghys , this handy boat launching dolly Boat launching trolley cart is made from polished zinc plated tubing, with moulded ABS wheels and 170mm diameter double poly tyres. Boat Dinghy Launching Carrying Cart Dolly
Was £48.99 now only £45.99

Dinghy Launching Trolley-Boat Launching Trolley
Dinghy launching trolley,Boat launching trolley will take boats up to 12 feet long, fully galvanized, fully adjustable. Packs away in most car boots in a couple of minutes. Ideal for small dinghys, tenders, toppers etc.

Available for only £149.99
Folding Dinghy Launching Trolley Puncture Proof

- A galvanized folding dinghy launching trolley puncture proof wheels which completely folds up for easy storage. Made from 25mm section tubing, it has a carrying capacity of 130kg and will fit most dinghies & inflatables upto 12' (3.7m).

Was £179.99 now only £175.99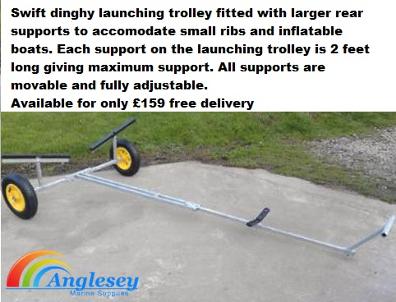 Inflatable Boat Launching Trolley
Swift dinghy inflatable boat launching trolley fitted with larger rear supports to accommodate small ribs and inflatable boats. Each support on the dinghy launching trolley is 2 feet long giving maximum support. All supports are movable and fully adjustable.
Available for only £159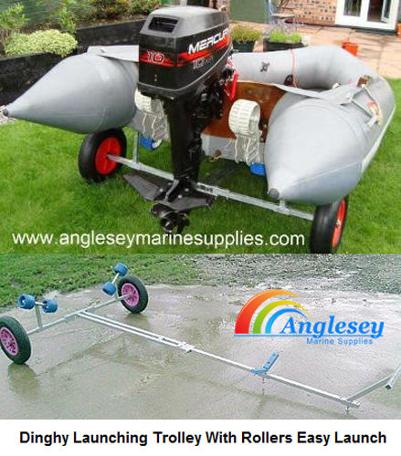 Dinghy Launching Trolley With Rollers
Our Swift dinghy launching trolley with rollers is capable of carrying vessels up to 12 feet long and 120kg, fully galvanised construction, fully adjustable design, the dinghy launching trolley folds away easily in seconds to fit into most family cars. Built to last. Fitted with non marking polyurethane rollers. All the supports and handle fully adjust. The rollers adjust up and down and also together or far apart across the axle. Fitted with 14" large pneumatic wheels for ease across sand and shingle. This is a popular launching trolley for ribs, inflatables and small fishing boats. Also predrilled to take a pressed steel hitch for offroad towing at low speed (5mph max)
Was £169 now only £159.99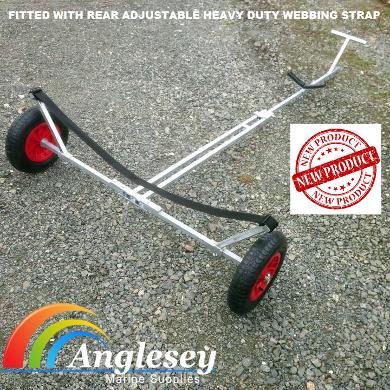 Dinghy Launching Trolley With Webbing Strap
New for 2016, fully galvanized folding dinghy launching trolley fitted with rear adjustable strap, ideal for thin hulled boat e.g laser 1 etc. Capable of carrying boats up to 12 feet long and 120kg in weight. Neatly folds away to fit into your car boot. All carrying points are adjustable along with the vee snubber and handle. Also the front is pre-drilled to accept our off road towing hitch sold separately.
Was £169.99 now only £149.99
Large Dinghy Launching Trolley
Large Dinghy launching trolley heavy duty elite launching trolley, carries boats up to 16 feet. Fully galvanized and fully adjustable. Fitted with non marking boat trailer rollers.12 foot long unfolded, 6ft long folded. 4ft wide open.
Was £199.99 now only £189.99

Dinghy Launching Trolley Towing Extension Bar
Dinghy launching trolley extension bar, fastens onto our predrilled dinghy launching trolleys using two M10 bolts. Allows the dinghy launching trolley to be towed slowly off road. Fits all the above foldable dinghy launching trolleys.

Was £35.99 now only £29.99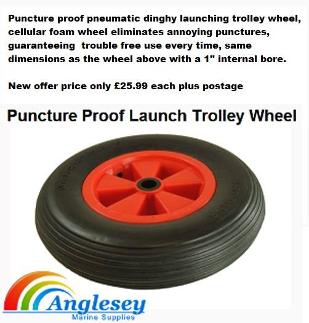 Puncture Proof Launching Trolley Wheel
Puncture proof launching trolley wheel, cellular foam wheel eliminates annoying punctures, guaranteeing trouble free use every time, same dimensions as the wheel above with a 1" internal bore. Fits all our dinghy launching trolleys.

New offer price only £25.99 each free postage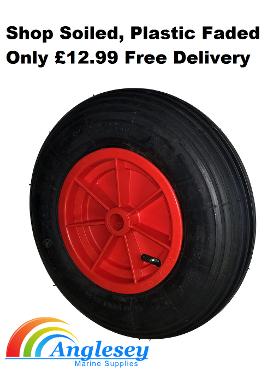 Dinghy Launching Trolley Wheel
Shop soiled dinghy launching trolley wheel, fading on the inner plastic. 16" pneumatic dinghy launching trolley wheel at a fraction of the cost. 25mm bore to fit most dinghy launching trolleys.
Only £12.99 with free delivery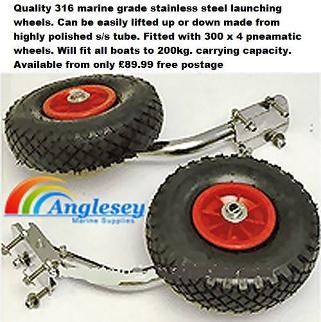 Boat Launching Wheels
Boat Launching Wheels Lift Up Deluxe. Quality 316 marine grade stainless steel boat launching wheels. Can be easily lifted up or down made from highly polished s/s tube. Fitted with 300x4 pneumatic wheels. Will fit all boats to 200kg. carrying capacity.

Available from only £89.99 free postage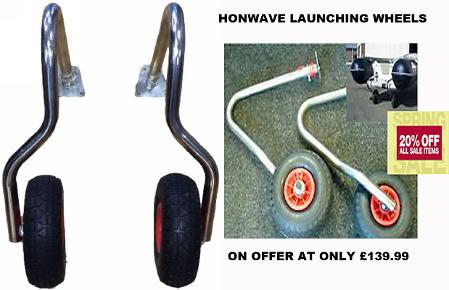 Honwave Launching Wheels-Dinghy Launching Wheels
Honwave launching wheels, dinghy launching wheels. Designed to fit dinghies with stern flaps. Swing up and down and lock in position. Made from tubular 316 stainless steel. Fitted with pneumatic tyres.
Was £149.99 per pair now only £139.99
Inflatable Front End Carrying Dinghy Launching Trolley
We have for sale a twin wheel inflatable boat launching trolley dolly, used to carry the front end of your inflatable boat when rear wheels are fitted (sold seperately). Sometimes manually carrying the front of the boat can be a strain, especially if loaded, this trolley simply hooks onto your bow shackle so you can carry it easily. Manufactured from 25mm galvanized steel and fitted with 14" pneumatic wheels. The part that hooks onto the bow shackle is adjustable to enable getting the height correct to your boat. Packs down flat when not in use. Boat Launching Trolley.
Was £89.99 now only £69.99