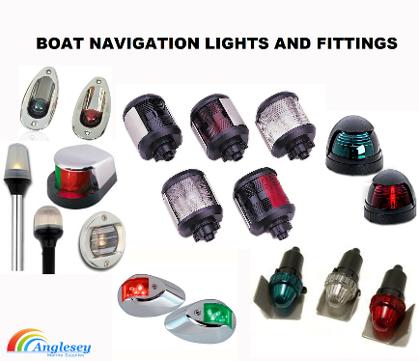 Cost effective Boat lighting and Boat navigation lights from Anglesey Marine Supplies.. Navigation lights, Emergency boat lights, Boat Deck Lighting Stern and Transom navigation lights, Brass and Stainless Steel cabin lights, Led boat cabin lighting, Bow lights, Low profile boat lights all supplied..Anglesey Marine Supplies. We stock a wide range of boat cabin light for Canal and Narrowboats. Led boat lights also in stock.Led navigation lights now in stock.
Led Boat Navigation Lights
12 volt Led stainless steel boat navigation lights, polished stainless finish, sold as a pair both port and starboard side. Meets all current regulations.

Now only £29.99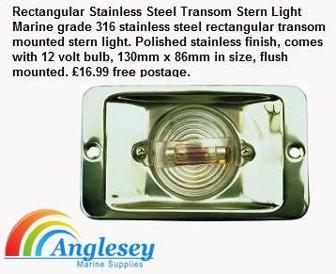 Stainless Steel Transom Stern Light
Stainless Steel Transom Stern Light Marine grade 316 stainless steel rectangular transom mounted stern light. Polished stainless finish, comes with 12 volt bulb, 130mm x 86mm in size, flush mounted.
Now only £16.99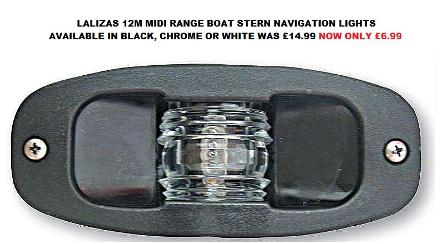 Choice of Either Chrome, Black or White Finish
Boat Stern Boat Navigation Lights
Lalizas 12m midi series, boat stern navigation lights.
The Eye boat navigation lights are available in a range of finishes, either black, chrome or white. Designed for boats under 12 metres long, the navigation lights have a 2 mile visibilty range. Manufactured from salt resistant nylon, shatterproof lens, all waterproof. The navigation lights have bronze contacts to prevent corrosion. 12v 5w bulb included.
Special Offer Was £14.99 now only £6.99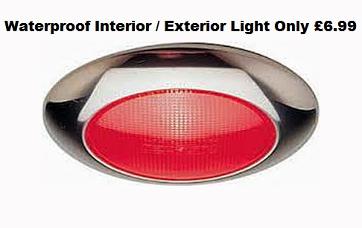 Red Stainless Finish Waterproof Boat Navigation Light
Red stainless steel finish waterproof boat navigation light, Aqua Signal 12 volt 10 watt red boat navigation light or interior or exterior marker light. Includes 10 watt bulb. 100mm diameter.
Was £8.99 now only £7.99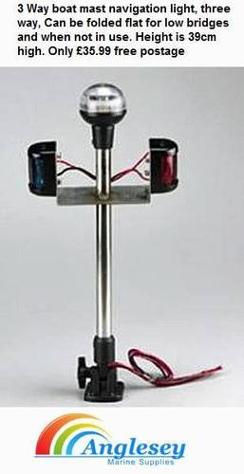 Boat Mast Navigation Light
Boat mast navigation light, three way, suitable for vessels up to 12 metres in length, manufactured from marine grade 316 stainless steel and polymide reinforced material,. Can be folded flat for low bridges and when not in use. Height is 39cm high.
On offer at only £35.99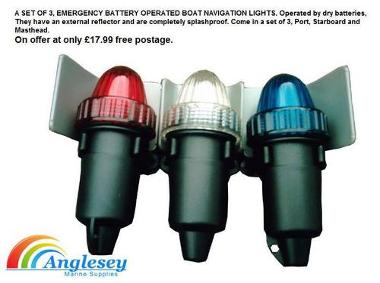 Battery Operated Emergency Navigation Lights
A SET OF 3, BATTERY OPERATED EMERGENCY BOAT NAVIGATION LIGHTS. Operated by dry batteries, They have an external reflector and are completely splashproof. Come in a set of 3, Port, Starboard and Masthead.
On offer at only £17.99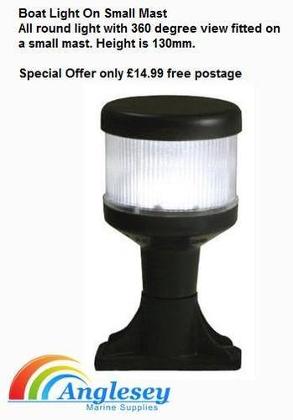 Boat Navigation Light On Small Mast
All round boat navigation light on small mast with 360 degree view fitted on a small mast. Height is 130mm.
Was £14.99 now only £9.99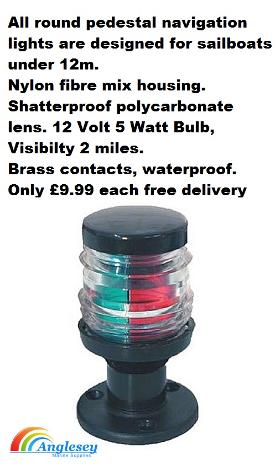 Boat Navigation Lights
All round pedestal boat navigation lights on a small mast are designed for boats under 12m.
Nylon fibre mix housing. Shatterproof polycarbonate lens. 12 Volt 5 Watt Bulb, Visibilty 2 miles.
Brass contacts, waterproof.
Was £9.99 each now only £6.99 each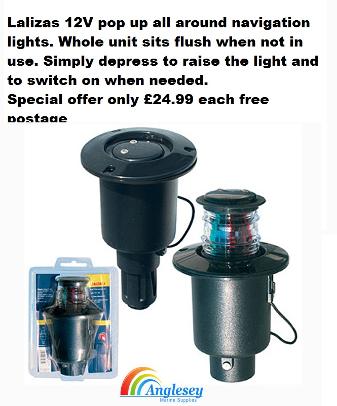 Boat Navigation Lights
Lalizas 12V pop up all around boat navigation lights. Whole unit sits flush when not in use. Simply depress the boat navigation lights to raise the light and to switch on when needed.
Was £24.99 each now only £18.99 each
Boat Navigation Lights Set Of 3
Set of three boat navigation lights, port starboard and stern lights.

Fitted with 12 volt bulbs however can be converted to 24v.
Was £31.99 for 3 now only £29.99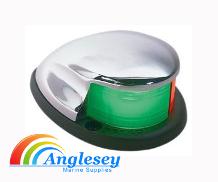 Low Profile Chrome Bow Lights
Low profile chrome bow light, Modern low profile shape blends perfectly with any boat deck design. Manufactured from ABS chrome plated.
Was £23.99 now only £19.99
Fold down boat stern navigation light
Fold down boat stern navigation light, can be folded flat when not in use, 21" (53cm) long, comes with 12 volt bulb.
Was £32.99 now only £28.99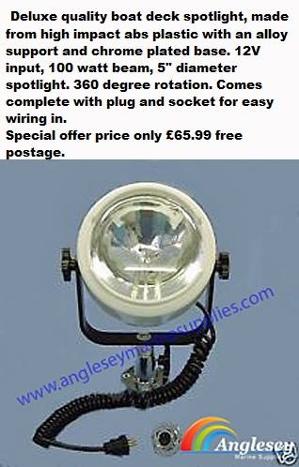 Deluxe Quality Boat Deck Spotlight
Deluxe quality boat deck spotlight, made from high impact abs plastic with an alloy support and chrome plated base. 12V input, 100 watt beam, 5" diameter spotlight. 360 degree rotation. Comes complete with plug and socket for easy wiring in.
Special offer price was £65.99 now only £48.99