Jetski Pwc items in stock from Trade Marine Supplies. Everything for the Jetski, when towing try out our impeller waterski rope protectors and when mooring we have a range of Pwc Jetski fenders and sand and grapnel anchors, jetski anchors.For your boat trailer we stock our Jetski and Pwc winch strap.Also a range of Quicksilver two stroke 2 cycle Jetski and Pwc oil.
Jetski and Pwc Goods, Jetski Oil, Jetski Supplies and Jetski Anchors and Waterproof Bags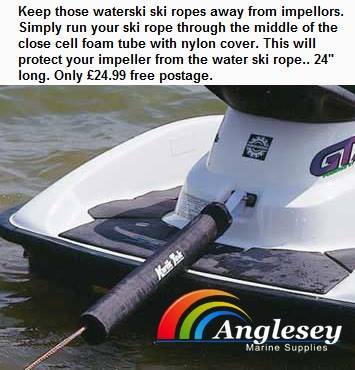 Jetski Impeller Protector
Keep those waterski ski ropes away from jetski impeller protector. Simply run your ski rope through the middle of the close cell foam tube with nylon cover. This will protect your jetski pwc impeller from the water ski rope.. 24" long. Jetski Towrope.
Was £24.99
now only £16.99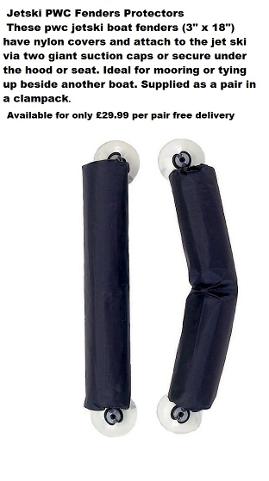 Jetski PWC Fenders Hull Protectors

These pwc jetski boat fenders hull protectors (3" x 18") have nylon covers and attach to the jet ski via two giant suction caps or secure under the hood or seat. Ideal for mooring or tying up beside another boat. Supplied as a pair in a clampack.

Was £29.99 now only £22.99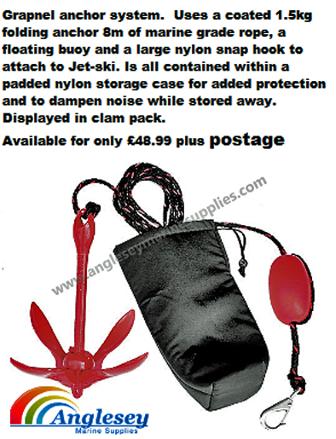 Grapnel Anchor Jetski Anchors And Small Fishing Boat Anchor System.
Grapnel anchor uses a coated 1.5kg folding anchor 8m of marine grade rope, a floating buoy and a large nylon snap hook to attach to Jet-ski. Is all contained within a padded nylon storage case for added protection and to dampen noise while stored away. Displayed in clam pack. Also ideal for lightweight dinghies. Pwc anchor.

Was £48.99 now only £44.99
PWC Jetski Mooring Line Rope
These 2 metre long jetski pwc mooring line rope have a 26cm spliced loop at each end. A closed cell foam chafe guard protects the jetski or boat from rope abrasions. UV, mold and mildew resistant.
Was £16.99 now only £13.99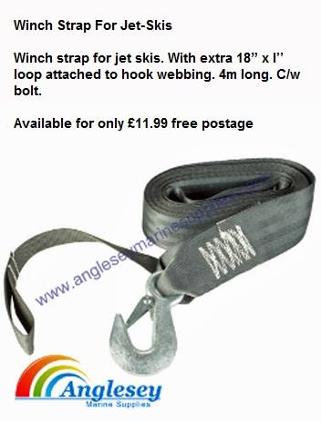 Pwc Jetski Winch Strap
Jetski winch strap. With extra 18" x I'' loop attached to hook webbing. 4m long. C/w bolt.
Available for only £11.99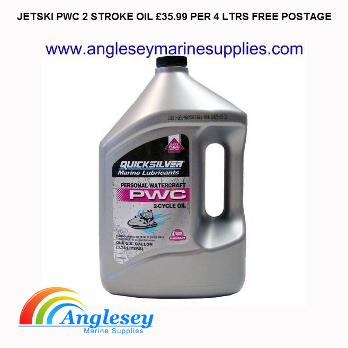 Quicksilver Two Stroke Jetski Oil
Quicksilver two stroke jetski oil are renowned for quality, this Jetski, Pwc 2 stroke two cycle oil is no exception. Also low price with free delivery makes a good bargain. Quicksilver 2 stroke oil.

Was £35.99 now only £33.99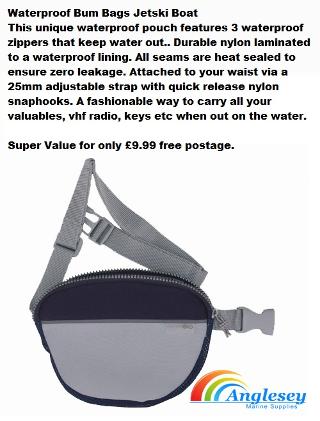 Waterproof Bum Bags Jetski Boat
This unique waterproof bum bags jetski boat pouch features 3 waterproof zippers that keep water out.. Durable nylon laminated to a waterproof lining. All seams are heat sealed to ensure zero leakage. Attached to your waist via a 25mm adjustable strap with quick release nylon snaphooks. A fashionable way to carry all your valuables, vhf radio, keys etc when out on the water.
Super Value for only £9.99 free postage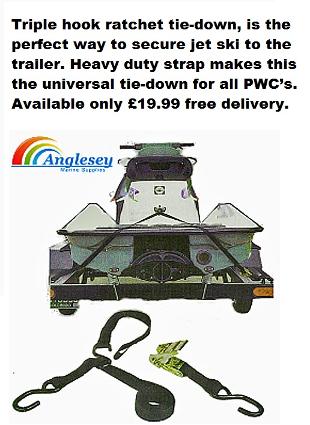 Triple Hook Jetski Ratchet Tie-Down Strap
Triple hook jetski ratchet tie-down strap, is the perfect way to secure jet ski to the trailer. Heavy duty strap makes this the universal tie-down for all PWC's.
Available only £19.99 free delivery.